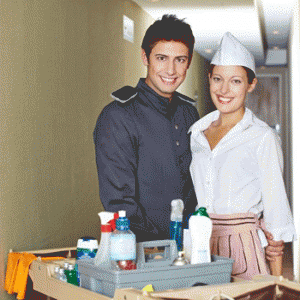 If getting new customers and repeat extended visits to your hotel is important to you as a hotel owner or manager then housekeeping should be at the top of your list of things to keep track of.  Anyone who's ever been a hotel owner or manager would love to think their staff is doing exactly what they are supposed to be doing at all times.  Unfortunately, this is not the case.  Whether intentionally or by accident, performance failures occur and managers lose control of the quality of the service provided by their employees.  By recognizing common hotel housekeeping mistakes, both managers and housekeeping supervisors can save time weeding out the staff members who are under performing or doing just enough to get by.
Here are some of the 5 most common mistakes hotel housekeepers make:
Availability & Cleanliness of Towels:
Housekeepers should ensure that every room is readily available with clean and fresh towels ready for hotel customer's use.  A fluffy, clean and fresh smelling towel can put a smile on anyone's face after a long day.  However by not having them available can put any patron in a sour mood, especially if housekeeping makes him wait a long time to get one.
Not re-stocking toiletries:
Fresh soaps and linens should be accounted for in each guest room on a daily basis.  Not having these items available in the moment you need them can really put a damper on any hotel stay.
Forgetting to check for quality: 
Thinning bed linens and sheets, towels with holes, a broken thermostat – all these things can make a guest change their opinion about your hotel.  Poor quality items can make your hotel guests feel like you have a low quality hotel.
Not checking their appearance before a shift: 
It is very important for hotel owners and managers to implement a dress code for their staff, including housekeeping.  How your staff looks can speak louder about the standards of your hotel than any advertisement can.
Taking their time to respond to guest's requests:
These days housekeeping positions entail much more than just changing the bed sheets and providing towels.  Guests sometimes call upon them to double as a concierge.  If they do not act graciously or contact a concierge to let them know of the hotel patron's request, they can really make your hotels customer service seem poor and inefficient.  Good luck getting people to stay at your hotel again after a bad customer service experience.
Bringing these mistakes to light will help keep your hotel running efficiently as well as alleviate unneeded stress to guests and staff and promote return visits!  Do you need a new linen and uniform service company to ensure your hotels linens, towels and staff uniforms are being laundered properly and are in pristine condition?  Linen Service helps hotel businesses all over the U.S. and Canada daily connect with local companies in their area for FREE!
Visit http://www.linenservice.com/hotel-linen/ or call 888.770.2489 to get your free linen service quote today!
http://www.linenfinder.com/wp-content/uploads/2014/08/logo.png
0
0
Linen & Uniform News
http://www.linenfinder.com/wp-content/uploads/2014/08/logo.png
Linen & Uniform News
2014-04-17 15:25:57
2018-11-19 13:51:55
5 Most Common Mistakes Hotel Housekeepers Make