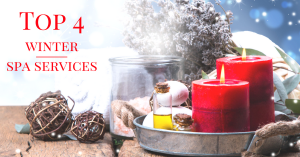 As fall comes to a close and the weather gets chillier, we are craving warmth, comfort and moisture for our cold, dry skin. As a spa business, you should be taking advantage of these cravings and offering services that customers just can't resist!
While you may currently be picking up business from the sales of gift cards, are you fully taking advantage of what this season has to offer? Or more particularly, what you could be offering? It's time to learn about some new techniques, services and ingredients to increase business each and every winter.
Here are our favorite winter spa treatments:
Hot Stone Massage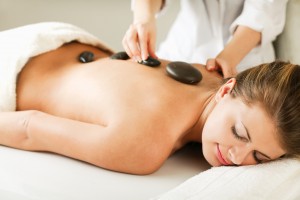 This one is a no-brainer for the cold winter season. This service literally provides the warmth your customers are seeking! In this massage, hot stones are placed at different points on the body, influencing deep relaxation.
This is a great service to offer busy clients stressed out by the approaching holidays. Hot stone massage is also great for boosting immunity during the chilly winter months.
If you do not already offer this service, you are going to want to make sure it is covered under your employees' insurance policy and that your entire staff is properly trained. It may be too late to offer the service this winter season, but that does not mean you should skimp out on getting your massage therapists credentialed! Start preparing for next winter. Your clients will appreciate this warming service.
Solo Infrared Sauna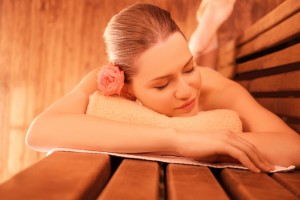 This is another service that quite literally warms you up during the cold season. Similar to a regular sauna, a solo infrared sauna induces a substantial amount of sweating. There are two main differences though: a solo infrared sauna is private and it uses infrared rays. Unlike a regular sauna, the client is not subject to getting nude in front of strangers. They get to reap the benefits by themselves, making their session a more exclusive and comfortable experience. The infrared rays used in the sauna, which are perfectly safe, penetrate deeper than in a normal sauna. This induces more sweating, which gets rid of more toxins.
While the initial costs may be high, purchasing a solo infrared sauna will pay off because it requires minimal work from the massage therapist. All he/she needs to do is set up the machine for the customer and fill out a brief form to make sure the client is in a healthy condition to use the sauna. The therapist can then move on to another appointment. So, your business can profit from the client using the sauna at the same time as another client that massage therapist is working on!
Chocolate Treatment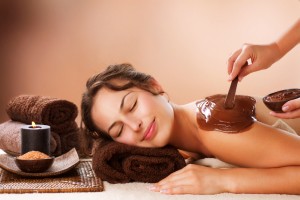 Take a moment to imagine having warm, creamy chocolate massaged into your skin. Just the thought of the aroma and the soothing touch of velvety chocolate is profoundly satisfying. Now imagine actually offering this as a service! Customers will be lining up at your door for a chocolate treatment.
Also, for those dealing with dry, winter skin, cacao makes an excellent exfoliant that can be used in either a facial or body scrub.
Top off a chocolate scrub with a soothing chocolate lotion and your clients will be in for a wonderful treat.
Ginger Essential Oils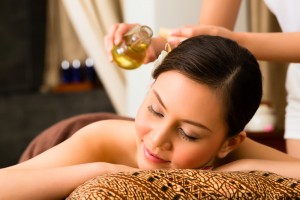 Spicy and peppery ginger is an exhilarating root to consume. But did you know the power of using it topically or aromatically? Ginger can improve immunity, clearing out congested sinuses. Ginger is also deeply relaxing as it vitalizes the body and warms up the muscles.
There are many different ways you can incorporate ginger oil into your spa services. Our favorites are to include ginger oil in massage therapy, provide a drop to clients before they enter the sauna, or to diffuse for customers entering your spa.
Winter Spa Treatments Are Coming to Town
If you add these services to your menu, your customers are sure to thank you! You'll help them relax, warm up and hydrate during these dry winter months.
But most importantly, you must make your linens inviting! They should look clean and comfortable, or your clients won't be comfortable using them. If you are in need of a linen service for your spa, contact Linen Finder at 888-770-2489.
Have a wonderful, relaxing holiday season!
http://www.linenfinder.com/wp-content/uploads/2014/08/logo.png
0
0
Linen & Uniform News
http://www.linenfinder.com/wp-content/uploads/2014/08/logo.png
Linen & Uniform News
2019-09-13 12:17:38
2020-01-28 12:30:19
4 Winter Spa Treatments to Add to Your Spa Menu