Quality restaurant linen and uniforms, coupled with delicious food, can give emphasis to your restaurant's identity. Your unique style of designing the interior with restaurant linens is a very powerful visual statement. At a glance, customers can elaborate that your restaurant staff has the capability of providing good food as well as quality service. Whether you are serving gourmet steaks, budget meals, or "NY Style Pizza", your establishment's service and identity is reflected in part through the quality of the table linen and staff uniforms. For the server uniforms, it is also a factor that reflects the image you are trying to create.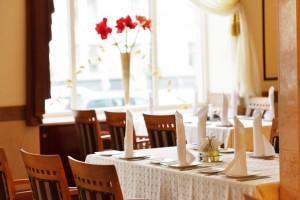 Crisp table linen, thoughtfully selected colors and sizes are powerful statements about your dining establishment. Everyone has seen the staff with the wrinkled shirt and the table with the cheap threadbare napkin. It doesn't lead to a positive experience, and most consumers won't be back. There are too many dining choices.
When taking into account a restaurant's identity, the server uniform is a powerful visual statement. The type of uniforms largely depends on the type of restaurant and the desired feel the restaurateur is looking to present to consumers. A multifarious selection of uniform styles can include short sleeve uniforms, polo shirts, tuxedo shirts and even button downs. There should be an appropriate color, style, and guide in regards to server's uniforms and restaurant linens, all depending on the concept of the restaurateur. A recommended guide must be followed in choosing a style that fits a restaurants image.
http://www.linenfinder.com/wp-content/uploads/2014/08/logo.png
0
0
Linen & Uniform News
http://www.linenfinder.com/wp-content/uploads/2014/08/logo.png
Linen & Uniform News
2019-07-08 12:16:08
2020-01-29 18:19:53
Restaurant Linen & Uniforms – Are They Really That Important?