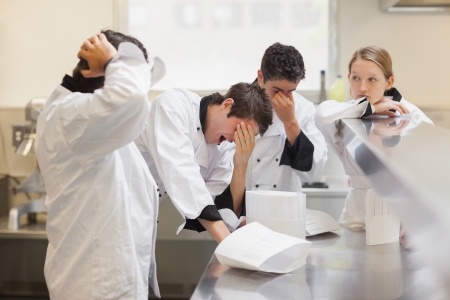 We receieve calls and online inquiries on a regular basis of customers who are fed up with their linen service provider.   The biggest complaints are from late deliveries or even worse – no delivery at all!  Frustrated business owners and managers are tired of waiting for deliveries that are late, short on supplies or are complete no-shows.  Even though it doesn't sound like a big deal to be out of clean towels, it is – especially when  you don't even have a towel to wipe down the table tops where customers eat.  (Mmmm…delicious…no.)
The worst is when you call and speak to someone whether it is the salesman who signed your account or a member in their customer service department and they tell you, someone will be there soon…and guess what…no one shows (we are shocked too!).  So now that you're all riled up remembering these awful scenarios we answer the oh so important question – Why do linen service companies no-show or not deliver when they say they will?  There are many different factors that can cause this problem.  Here are some of the most common reasons why linen service companies fail their customers:
1.  Not enough product –  If the linen service provider is fresh out of towels they would be unable to provide them to your business.  This is not a valid excuse – if the company is aware they are short on supplies they should remedy the situation immediately to provide prompt and timely service to their customers.
2.  High Employee Turnover – Perhaps they have the items but they are short staffed when it comes to loading their trucks or have a high turnover of drivers.  If that is the case it would be difficult to get their products to customers.  A company with high employee turnover should be a large red flag.  There is a reason why their employees keep leaving, do you really want to stick around and find out why?
3.  Disorganization – So they have the products and the employees but items are still not being delivered.  This makes us question – How long has the company been in business? This can be a huge factor if you have new owners who have little to no experience in the industry.  If they are unable to streamline their process in-house, how will they be able to fulfill their commitment to your business?
4.  Service Area – Is your business out of their way?  If they don't have enough accounts on your route you are in danger of being dropped as a client at any moment.  Is your service already struggling with getting timely deliveries because of this?  It may be time to start shopping for new service.
5.  Odd Hours – Is your delivery time inconvenient with your current linen service providers schedule?  Are they unable to accommodate your needs?
6.  Special Requests – Another issue with many sub-par linen services is the fact that many of their sales reps & customer service employees do not advise their drivers of special requests that their customers place.  A disconnect in communication can cause interruption of timely deliveries.
The linen and uniform service providers we work with have gone through a rigorous pre-screening process by our company.  We ensure that their current customers are satisfied with the items as well as the service they are receiving.  Our providers are there for you when you need them the most, and will stick with you until all your needs are met.
Ready to start a new life with a new service and ditch the missing deliveries?  Contact us today by calling 888-770-2489 or visiting our website.
Our Linen and uniform providers won't treat your products like this (unless that's what your looking for):
http://www.linenfinder.com/wp-content/uploads/2014/08/logo.png
0
0
Linen & Uniform News
http://www.linenfinder.com/wp-content/uploads/2014/08/logo.png
Linen & Uniform News
2018-07-13 12:17:08
2020-01-28 17:28:24
Frustrated Business Owners Tired of Late Deliveries and No-Shows