The Pros and Cons of Using Polyester in Your Hotel Linen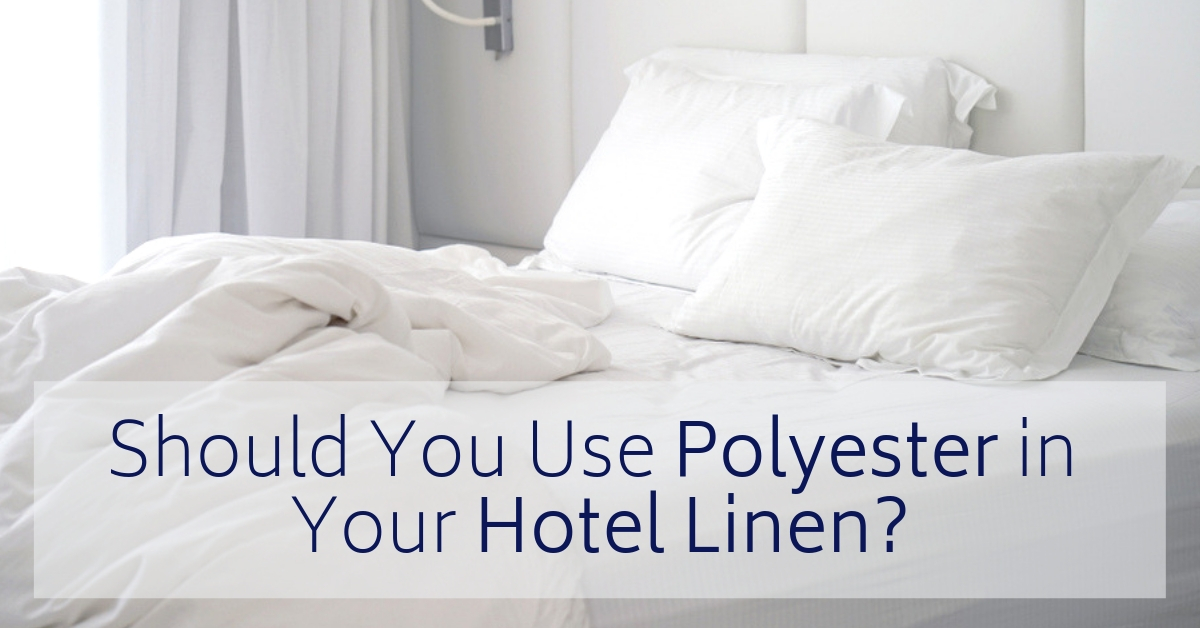 Written by Hannah Villarba and Grace Ducanis
Polyester linens are some of the most popular choices for hotel linens for obvious reasons. They are not only the more affordable alternative to higher-priced, high-thread count 100% cotton or linen hotel bedding products; they are also more durable, are virtually wrinkle-free and quick-drying, not to mention can easily blend with other materials.
Polyester is valued for being versatile and easy to maintain. This is due in large part to being a kind of plastic material not unlike the materials used to make plastic bottles for soda and ketchup.
But the problem with polyester and polyester-blend materials for hotel bedding lies in the exact reason for its popularity and marketability: it is plastic and are therefore not the most sustainable fabric option.
But first, let's go over its advantages:
The Pros of Polyester
1. Polyester is extremely strong.
One of the main benefits of polyester is that polyester fibers, and therefore polyester fabric, is extremely strong. This means that polyester fabrics holds up well over time and do not need to be replaced as often. Many hotels choose fabrics that are polyester blends, meaning that polyester fibers have been blended with another fibre like cotton to enhance the fabric's strength.
2. Polyester holds its shape.
Polyester is very resistant to wrinkles, stretching, shrinking, mildew and abrasion. As a result, polyester is one of the most durable fabrics, holding up through wash after wash after wash and still looking good.
3. Polyester is one of the less-expensive fabrics.
In terms of cost, polyester is one of the more cost-effective fabrics, mostly because of its synthetic nature. It is the most common of all of the synthetic fibers probably because of its cost-efficiency and durability.
The Cons of Polyester
1. Polyester is not as good for the environment as other fabrics.
If your hotel is looking to go green, then polyester might not be the best choice for your hotel linens. Here are a few ways that polyester negatively affects the environment:
2. Polyester doesn't breathe well.
Polyester does not have the same breathability as natural fabrics like linen or cotton. While many think of polyester as a sweat-wicking fabric, the fabric is really only cooling when it's fitted to the skin, meaning that when it comes to products like bed linens polyester doesn't have the same cooling abilities of activewear or natural fabrics.
Explore Fabric Options with Linen Finder
Looking for a hotel linen service provider that offers a variety of options? Use our simple search tool to get in touch with the best hotel linen providers in your area.
http://www.linenfinder.com/wp-content/uploads/2014/08/logo.png
0
0
Linen & Uniform News
http://www.linenfinder.com/wp-content/uploads/2014/08/logo.png
Linen & Uniform News
2018-03-17 12:17:38
2020-01-29 17:15:20
The Pros and Cons of Using Polyester in Your Hotel Linen