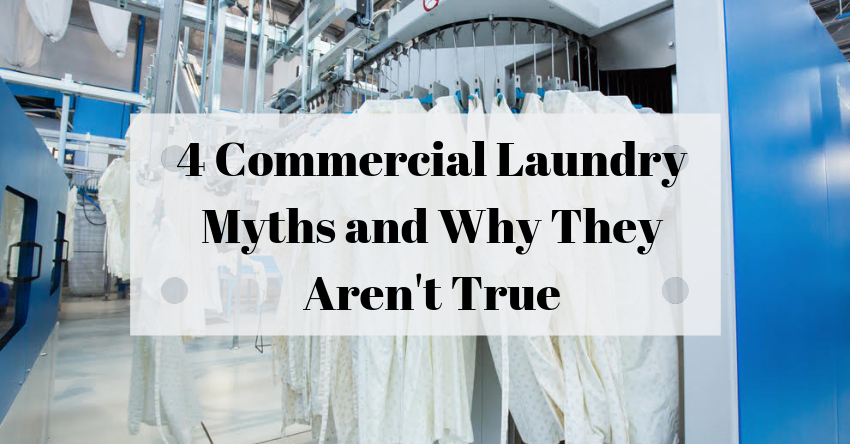 If you're thinking about outsourcing your linens and uniforms, you're probably weighing the pros and cons. Is it worth it to work with a commercial laundry?
In order to make the best decision, it's important to dispel some common commercial laundry myths that might have you worried about taking the plunge.
Commercial Laundries are Too Expensive for What They're Worth
One very common commercial laundry myth is that it's too expensive, and not worth the price. And, while purchasing linens and uniforms rather than renting them may seem cheaper at first, having to maintain and launder them yourself defeats the purpose of trying to save money.
If you plan on using employees to launder your textiles in-house, it's important to consider minimum wage increases. According to the Bureau of Labor Statistics, the average pay for an employee in the hospitality industry in December 2017, for example, was $15.671. In just one year, that number increased to $16.27!
Not only will you be paying employees more per hour, but you'll have to pay for laundry training and possibly even a manager to oversee the laundry operation and make sure everything is running safely and efficiently.
Only Big Companies Use Commercial Laundry Services
Commercial laundries across the world work with businesses of various sizes. As a small business owner, you can benefit greatly from a commercial laundry service.
Most commercial laundries will take the time to sit with potential customers, go over all services and pricing, and come up with a flexible plan that works for both parties. So, even if you're small, it doesn't mean you'll be charged big.
If you run a small business and believe it's easier to do all the laundry yourself, you can expect to spend a lot of money on supplies, repairs, and replacements. Additionally, all the valuable time you'd take to do laundry could be focused on more important matters like growing your business.
Commercial Laundry Services are Unreliable
Every business owner's nightmare revolves around delays. Delays lead to monetary losses, and overall bring operations to a halt. How can you trust your laundry service to be reliable in cleaning and delivering your textiles on time?
The truth is that many commercial laundries have the resources to invest in tracking systems that will ensure each and every linen and garment of yours is accounted for. You'll be assigned a route service driver who will be in charge of picking up and delivering your linens and uniforms. 
With a little research, you'll find large commercial laundries who have been in the industry for decades and have used their experience to come up with high-quality services utilizing advanced technology not available to those with a standard washer and dryer. 
Commercial Laundries are Limiting
Many commercial laundries do more than just laundry. They provide linen and uniform rentals across a variety of industries including restaurants, hotels, healthcare facilities, and more!
Not only that, most commercial laundries offer additional products like mats, mops and towels, and facility services. Your commercial laundry provider can become a one-stop-shop for all of your business's needs. Talk about making your job easier!
Here's the Truth
While putting your business's garments in the hands of a commercial laundry service may sound intimidating at first, you ultimately reap the benefits. Commercial laundries save you time, money, and stress. It's truly a win-win for all involved.
Choose the Best Commercial Laundry Provider Today!
When it comes to finding the perfect provider for your business, rely on the experts at Linen Finder. We're here to connect you with the best providers in your area to make sure you're comfortable with the laundry service you choose.
We're ready to answer all of your questions and get you connected with providers today! Call us today at 888-770-2489 or submit your queries via email.  
http://www.linenfinder.com/wp-content/uploads/2014/08/logo.png
0
0
Meghan Leboff
http://www.linenfinder.com/wp-content/uploads/2014/08/logo.png
Meghan Leboff
2018-05-10 12:17:38
2020-01-29 18:00:54
4 Commercial Laundry Myths and Why They Aren't True