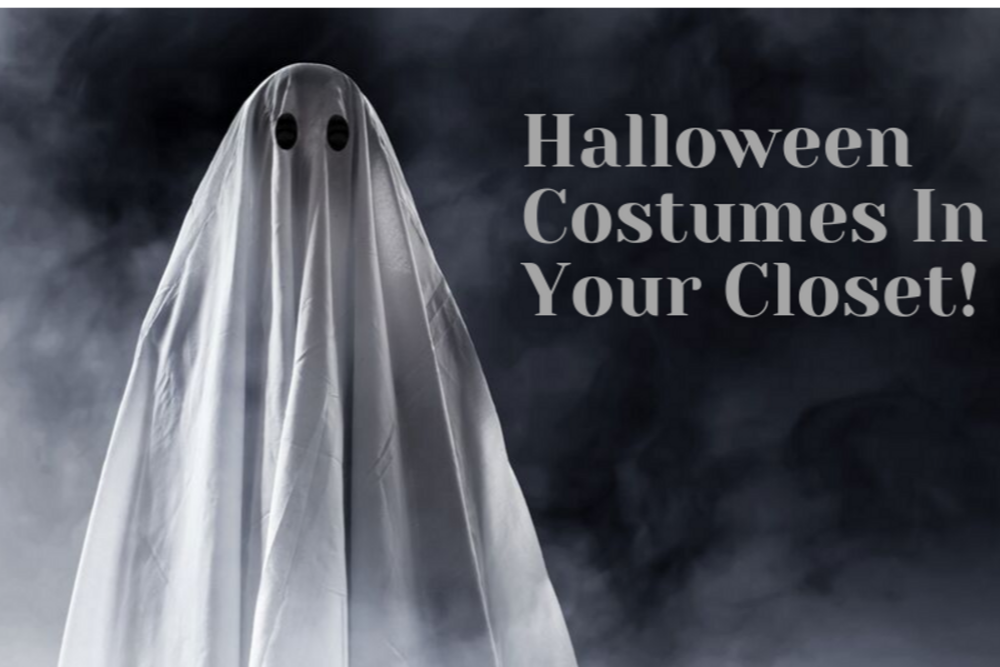 This Halloween doesn't need to be a costume nightmare. There are plenty of spooky and fun possibilities using the linens in your home! Read along for some Halloween costume ideas found in your closet or bedroom. 
Halloween is a split holiday. You either love it or you hate it. One of the reasons for this adoration or disdain is the obligation of costume-crafting. Those with craft talent and patience, or the money to drop on a one-time-use outfit, can't wait to get to the party and show it off. The rest of us find last-last-year's costume and drag ourselves in front of our less than impressed acquaintances. 
"That looks familiar," they say glancing around the room for something more 2019-splashy than a head-reattached Eddard Stark from Game of Thrones. 
"Yeah, thanks," you say, conjuring the explanation you crafted on the way to the party. "It's commentary on how bad the writing became in the last season. You know, with the…." 
Their eyes lighten at something over your shoulder. "Oh My God!" they yell and move around you. "Are you what I think you are?" 
"That depends!" says the flimsy Starbucks Coffee Cup wearing sunglasses standing in the doorway. "If I'm the greatest marketing ploy in modern history, then you got me good."
Heinous laughter fills the room as hands go up to hi-five Mr. Cool and Contemporary. You seethe into your cup and murmur something about throwing a bed sheet over your head and calling it a night. Well…why didn't you?
The linens in your home provide all the materials you need for a costume that's sure to pass any halloweenie's standards. Here are some ideas will get you through the party and into the hearts of its attendants. 
Mummy Costume
You can't go wrong with the classic mummy outfit. All it takes is a white or off-white sheet you're willing to part with. 
Rip the sheet into lengths 3 inches wide. Starting the rip with scissors is recommended, and you're welcome to cut the entire length, but ripping will produce a ragged effect that's very effective in giving an aged look to the wrapping.

Age the fabric further with staining. You can do this with coffee water or brown food coloring. (Make brown food coloring by mixing yellow, red, and

very little

black). 
If using a synthetic fabric, you'll need to soak the material in a 1:1 vinegar/water solution for thirty minutes before dying. This will make the fibers more receptive to the color change. 
Let strips soak for a while then let dry. 

Wrap away! This might take a few tries to get it right.

Click here

for a series of instructional videos that can help. 
Superhero Cape
Capes put the super in superhero. You can easily make one using an old bed sheet or length of fabric. This instructional video shows you how easy it can be! 
Greek God / Goddess Costume
Togas are a great last-minute costume that have the added benefit of not ruining the bed sheet you use. There are two ways to tie a toga, from the front and from behind. Just add sandals and all you're missing is mighty thunder!
Statue of Liberty
For a patriotic twist to the toga, wear a matching shirt underneath with elbow-length sleeves. Add a book, a beverage (proxy torch), and you have yourself a solid likeness. If "Lady Liberty on her day off," isn't good enough, here's an instructional video to make the crown from household supplies. For the torch, you're on your own. 
Sheet Ghost
Far and away the most classic and revered sheet-based costume. The ghost costume can be as simple as tossing a sheet over your head and cutting eye holes, or it can be detailed as you like. Some modifications to deepen the experience are black-painted nails, baking-flowered hair, sheet ends cut ragged, and the list goes on. Wiki How has a good instructional article to make a more impressive ghost costume. 
Linen Finder is Your Source for High-Quality Linens
Here at Linen Finder, we are always looking for creative ways to use everyday linens. We're also always looking for the highest-quality linen and uniform rental services to best serve you! If you're in need of linen, uniform, towel, laundry, mat, or first aid service, visit us at linenfinder.com, or call us at 888-770-2489. We look forward to hearing from you! 
http://www.linenfinder.com/wp-content/uploads/2014/08/logo.png
0
0
Jason Wilson
http://www.linenfinder.com/wp-content/uploads/2014/08/logo.png
Jason Wilson
2019-10-03 08:23:11
2019-10-03 08:32:44
Halloween Costumes in Your Closet!